Life hasn't always been easy for the close-knit Chickalini siblings of Queens, but one by one, they're learning to believe in happily ever after.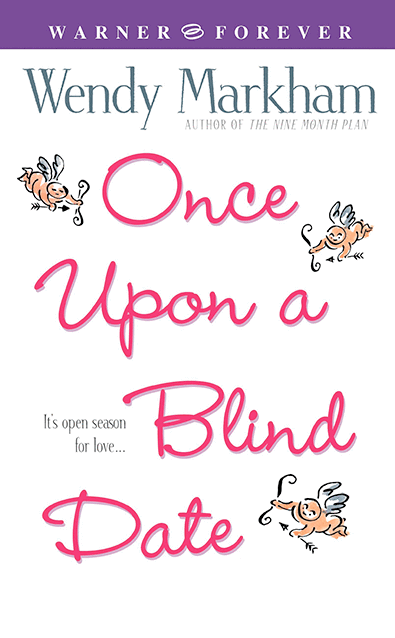 BOOK TWO
Maggie is best buddies with Dominic. Charlie is best friends with Julie. Through the magic of the Internet, they set up their pals on the most romantic blind date ever. Naturally, Maggie and Charlie tag along for moral support—what are best friends for? Yet when the two matchmakers meet, their concerns for their charges take a backseat. As Maggie looks at Charlie, she thinks she feels the earth move. Laying his eyes on his fellow Cupid, all Charlie can think about is kissing her delectable mouth. Shes involved with someone. Hes Manhattans most committed bachelor. What will it take for a pair of modern matchmakers to realize this simple truth: that when it comes to finding a soul mate, true love can be found when you least expect it?
"With Julie and Dominic starting the story off, the reader can only hope they may have a future story of happiness to tell, who knows maybe ev en with each other? Aside from this the romance between Maggie and Charlie is wonderful and I hope to see them again in a future romance as well. It should be interesting to see how the two come together when parenthood strikes. They were characters one hates to say bye to, as they are both so real to the reader throughout the story."
— NewAndUsedBooks.com
"Fans will enjoy this amusing matchmaking romance gone awry. The key to this Manhattan (and somewhat Queens) madness is that the four characters seem real with unique personalities. Once Upon a Blind Date is a fun tale with a humorous matchmaking twist."
— Harriet Klausner, The Best Reviews
"Once Upon a Blind Date is a fast paced ride through the life of virtual dating. Charlie and Maggie are easy to identify with and the dialogue is snappy and well timed. As their relationship progresses, self-doubt starts to creep in and their emotional hesitancy to commit makes the reader agonize right along with them. Fans of Markham will not be disappointed with this book. It's an enjoyable read that's worth picking up."
— Miz Savannah, Contemporary Romance Writer
"Breezy, scrumptious fun from the author of Slightly Settled."
— Kristine Huntley, Booklist
"A light-hearted romance that focuses on Maggie, a friend of the Chickalinis (The Nine Month Plan). The ups and downs of Dom and Julie's relationship intertwine with Maggie and Charlie's growing attraction to each other. Their struggle to deny their obvious desire to one another, and Maggie's determination to get Dom and Julie matched up, makes for many humorous moments. An altogether fun, fast read."
— Susan Mobley, Romantic Times magazine
"A merry chase. Ms. Markham has a fun, yet unique voice which we'll enjoy for a long time, even as her other "voice" is distinctive in the suspense genre."
— Rendezvous magazine
"Fun and fast-paced, and with New York City as a backdrop there's no way the story fails."
— Livia Holton, Romance Reader's Connection
"Once Upon a Blind Date is a delightful contemporary romance. The characters are well-matched, and scenes contain plenty of humor that keeps the story moving along at a swift pace. I…couldn't put the book down."
— Round Table Reviews
"Wendy Markham's new book Once Upon a Blind Date explores the modern-day electronic yenta known as Internet dating with sometimes hilarious and often poignant results."
— Romance Ever After
"When I first picked up Once Upon a Blind Date, I figured that I was in for a pleasant and carefree read. Well, I found out that was indeed the case…but, this book is also so much more! It's fun, light-hearted, and at times, laugh-out-loud funny. There's no downside to reading Once Upon a Blind Date. Once you turn the last page, you'll put it down with a smile on your face, and a renewed hope that maybe, just maybe, there really is someone out there who really is Our Perfect Match."
— Romance Reader at Heart
"Features an intriguing twist on the matchmaking plot. For a fun book with interesting characters, be sure to check out Once Upon a Blind Date."
—Jennifer Bishop, Romance Reviews Today
"Wendy Markham's tale has a sincerity to it, which put together with the lifelike characters, makes the novel a pleasure to read. Maggie's intensity and take-charge attitude interests the readers but frustrates her near and dear ones and this adds hilarity to the story. Charlie is so much her opposite that it's fun to read when the two of them try to influence each other to change. Supporting characters help the story along quite a bit and the readers get to meet characters from the previous Chickalini story. The author incorporates the current trend of internet dating sites and the truth behind it, takes the reader on a delightful journey through the boroughs of NYC, and generally makes reading this book a treat. Funny, poignant and realistic, Once Upon a Blind Date is sure to warm readers' hearts."
— A Romance Review
BOOK THREE
Things to do before Grandpa Junie turns eighty-five, and I'm disinherited:
Find a guy to marry (preferably a stranger of my own choosing, not Grandpa's)
Tell the groom it's only temporary (and platonic, naturally)
Tie the knot asap!
Untie the knot asap!
Queens-born-and-bred Mia Calogera needs a husband-like yesterday. Eloping with her Internet pen-pal Derek sounds like a plan. Which is why Mia's dressed in a to-die-for beaded gown and white satin shoes, headed for the Chapel of Luv in Vegas.
Advertising dynamo Dominic Chickalini has vowed to be the last single man standing. Then he spies the gorgeous bride-to-be in the aisle seat of the plane, haloed in a sunbeam. The sexual sparks fly, but this woman's already spoken for. Or is she? When Mia's wedding plans go south, she makes Dom an offer that's hard to refuse. All Dom has to do is say yes. It's not like it's forever. It's not like they're even in love. So why does her heart pound at the thought of looking into his eyes and saying "I do?"
"Ms. Markham has penned a humorous yet touching romance that has you laughing in places and nearly crying in some. Fast paced with plenty of action, sizzling romance, and witty dialogue, Bride Needs Groom is a fun and entertaining read."
—Coffee Time Romance
"The roller coaster of love and relationships is never easy, but in BRIDE NEEDS GROOM, Wendy Markham depicts these struggles in a way that will have you cheering instead of jeering at Mia and Dominic as they come together to work on the speedy "I do not know you" relationship. While Dominic and Mia are attempting to bridge the gap of getting to know each other as hurdle after hurdle takes places going from one thing to the next, I was pleasantly surprised at how well everything was portrayed, enticing and entertaining you without making [you] bored. Will they be able to make it or just give up as they get to know and cohabitate with each other? I encourage you to read the book, as I was intrigued and unable to put it down."
—Fallen Angel Reviews
"I loved this book! There's some great self-realization by both lead characters…and meanwhile, they're just hugely entertaining. What a fun read!"
—Morgan Chilson, Freshfiction.com
"BRIDE NEEDS GROOM is a fun lighthearted romantic romp that fans of contemporary tales will appreciate. The lead couple are fun to read about as they marry for the wrong reasons, but all the right reasons are there too if either courageously reaches out to the other. Readers will enjoy Wendy Markham's amusing tale of love across the tracks in Astoria."
—Harriet Klausner
"BRIDE NEEDS GROOM is both funny and moving, not an easy combination to pull off, but Ms. Markham does it beautifully. The narration is in the present tense, something I quickly became comfortable with. Pivotal periods in Mia's and Dom's lives are told in flashbacks that elicit sympathy and understanding for their characters…. Several minor characters shine in BRIDE NEEDS GROOM, most notably: Grandpa Junie, who makes a late, but memorable personal appearance; Dom's best friend Maggie, from ONCE UPON A BLIND DATE; Mia's friend Lenore; Dom's Pop and the rest of the large, loving Chickalini family, including his big sister Nina, from THE NINE MONTH PLAN. I won't go into Mia's Internet fiancé; him you'll need to meet for yourself. BRIDE NEEDS GROOM stands perfectly well on its own, but you're sure to want to read the connected novels if you haven't already. Mia and Dom are a most engaging couple. Many of their antics and interior monologues are amusing, some are poignant, all are relevant to the well crafted plot and character building. In short: it would be hard to find a contemporary romance to top BRIDE NEEDS GROOM."
—Jane Bowers, Romance Reviews Today
"In this story of the Chickalinis' confirmed bachelor, Markham once again brings you laughter and tears in a wonderfully heart-warming romance. The characters are like family, and it is a joy to see many familiar faces."
—Romantic Times Magazine (Top Pick, 4 1/2 Star Review)
"Entertaining and fun…I certainly let loose with a torrent of tears as well as some hearty chuckles throughout. Very well done! This is definitely a great book to take to the beach or for a weekend getaway – fun and lively with a lovely and touching romance."
—ContemporaryRomanceWriters.com