Widowed mom Bella Jordan and her little boy detour to return an oddly familiar pregnant stray cat to her owner, and unexpectedly make a fresh start in the real-life upstate New York village populated by psychic mediums. While the locals attempt to solve murders by channeling the victims' spirits, skeptical Bella uses good old-fashioned logic. Can the dead really speak to the living? That's up to the reader to decide in this cozy mystery series populated by lovably kooky characters some readers will recognize from the original Lily Dale series.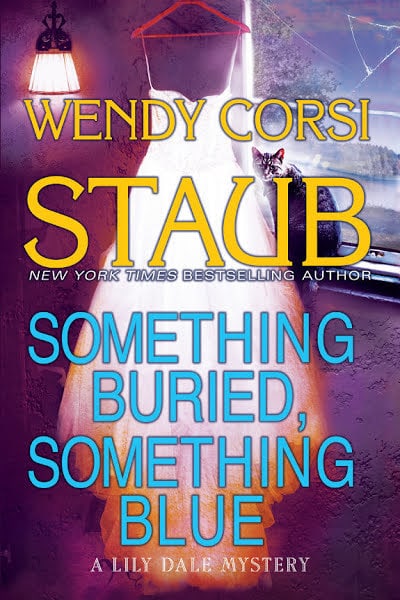 Something Buried, Something Blue
BOOK TWO
New York Times bestselling author Wendy Corsi Staub is back with the second in her critically-acclaimed cozy mystery series.
After agreeing to stay in Lily Dale through the winter as caretakers of the Valley View Guesthouse and its feline residents, widowed mom Bella Jordan and her son Max are looking forward to the peaceful off-season after a hectic summer. That is until the medium next door, Odelia Lauder, recruits Bella to host a destination wedding for the world's most petulant bride, Johneen Maynard, a friend of Odelia's granddaughter.
Things take an even more stressful turn as the wedding day looms amidst an October blizzard, when suddenly the Spirits start giving Odelia a major heads up that the bride might be fated for death. And when the prediction comes true just as the storm begins to break, Bella finds herself trapped in a house full of murder suspects.
It's a race to figure out who killed Johneen–and what clever murder weapon made it appear to be natural causes–before the killer catches on in Something Buried, Something Blue.
Praise for the Lily Dale mystery series:
"[A] charming series launch…[Staub] introduces a host of warmly appealing characters and throws in a touch of the otherworldly. Recommend for readers who enjoy the TV show Charmed."
—Library Journal
"Best-selling author Staub takes readers…on a spooky journey into the unknown while lightening the mood by weaving in sweet, heartfelt, hopeful moments."
—Booklist
"Staub doesn't overplay the quirkiness of the guesthouse residents for color, nor does she rely on ghosts and psychics to solve the murder, opting instead to pull the heartstrings of readers."
—Publishers Weekly
"Wendy Corsi Staub's writing sparkles and the book fairly crackles with suspense. Her characterizations are spot on and you are sucked in from page one…If you're looking for a different type of cozy, then this one's for you!"
—Night Owl Reviews, Top Pick
"A tantalizing tale mixed with small-town politics and secrets, while also capturing the authentic feel of a woman struggling through desperate times…This is a terrific start to what is hopefully going to be a series featuring Bella Jordan and her son."
—RT Book Reviews
"Nine Lives has everything…Wendy Corsi Staub has done it again."
—New York Times bestselling author Charles Todd
"Wendy Corsi Staub's Nine Lives hooked me from page one. In fact I didn't want to put it down: with warm characters, an intriguing setting and just a touch of the unexplainable it's a thoroughly satisfying read.
–Rhys Bowen, New York Times bestselling author of the Molly Murphy and Royal Spyness mysteries
"I loved visiting Corsi Staub's magical world, cover to cover, and can't wait for the next in the series."
–Juliet Blackwell, New York Times bestselling author of Give Up the Ghost
"Wendy Corsi Staub weaves a spectacular tale of suspense … Lily Dale would definitely be on my must visit list. It's an appropriately quirky town with an even quirkier cast of characters – and a cat, Chance, who's adept at pulling Houdini acts. Who could ask for anything more? Definitely a must read."
–T. C. LoTempio, national bestselling author of the Nick and Nora Mysteries
Praise for New York Times and USA Today bestseller Wendy Corsi Staub:
"If you like Mary Higgins Clark, you'll love Wendy Corsi Staub."
—New York Times bestselling author Lisa Jackson
"Once Staub's brilliant characterizations and top-notch narrative skills grab hold, they don't let go."
—Publishers Weekly
"As always, Staub leaves us wanting more."
—RT Book Reviews
"When it comes to mysteries of the home and hearth, Wendy Corsi Staub is unrivaled. Just when you think you've figured her out…think again!"
–John Valeri, Hartford Book Examiner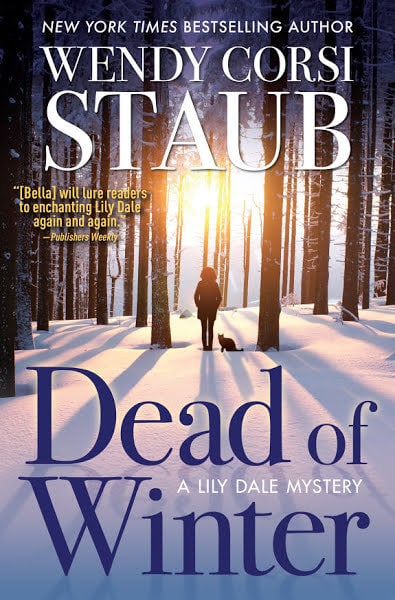 BOOK THREE
Just as a murderer dumps his corpse into the lake across Valley View in Lily Dale, Bella Jordan happens to be at her window, not quite realizing what she's seeing. Unbeknownst to her, the killer spots her silhouette and prowls straight to her door. That is, until he's interrupted by a black cat. A superstitious gambler, he takes off, but Bella's seen too much, and he vows to return.
Jiffy Arden, a neighborhood kid looking for the black cat and stumbling across the killer, begins to have premonitions of being kidnapped during the season's first snowstorm. Sure enough, when it strikes, he vanishes, never arriving home from the bus stop. While her son, Max, believes Jiffy has been kidnapped, Bella is convinced he's just wandered off as he typically does… until a body shows up in the lake.
Now everyone is pulling out all the stops to find the missing child, identify the victim, and collar the killer. And fast, because he's coming for Bella next in Dead of Winter.
"Entertaining…The endearing town, its quirky psychic medium residents, and a hint of romance…carry through to a suspenseful ending."
―Publishers Weekly
"This warm, small-town series will appeal to fans of the Hallmark Channel's The Good Witch, starring Catherine Bell."
―Booklist
"A spectacular whodunit."
―New York Journal of Books
"With enough twists and turns to keep you guessing, the avid mystery reader who enjoys a strong element of the paranormal will be thrilled with this book. In fact, I recommend the whole series!"
―MyShelf.com
BOOK FIVE
In the quirky, picturesque lakeside community of Lily Dale, where the residents can talk to the dead, young widow Bella Jordan is the lone skeptic among believers. She doesn't believe in ghosts . . . but after a year in the village, she would admit that her new friends do sometimes seem to know impossible things.
Still, when a Black stranger dressed in old-fashioned clothing arrives unexpectedly at Bella's guesthouse at midnight on Juneteenth, only to vanish the next day as if he'd never existed, Bella's sure there has to be a logical explanation. One that has nothing to do with the strange warning Odelia, the medium next door, delivers from the Spirits: Beware of . . . Barry?!
Bella doesn't know a Barry, and she has enough people in her life already, what with her young son Max and their two kitties, handsome vet Drew, a plethora of kind but nosy neighbors and a full house of summer guests. But as the mystery of the missing stranger deepens, she starts to wonder: did the Spirits really mean Barry? Or did they mean bury . . .
If you're a fan of gentle mysteries filled with quirky but endearing characters, and haven't met Bella and her friends yet, you're in for a real treat! The Stranger Vanishes is the fifth Lily Dale cozy, and it's safe to jump right in.